After a few days of wet weather we are back at applying anhydrous ammonia (To be known as NH3 from here on). There are several forms of nitrogen that corn growers can use but in our farm operation this is the best source of nitrogen for us to use.
Derk applying NH3
There he goes behind another hill!
We live in a livestock intense area
of Iowa so another form of nitrogen often used in this area is animal manure.
Manure is a great source of plant nutrients because it contains not only nitrogen but also phosphorus, potassium, and several other essential nutrients required for plants to grow and produce. Manure also adds organic matter
back into the soil - if you're a gardener you know how important organic matter is to the soil makeup.
Just like animals are different so is their manure. A sow's (a mom pig) manure has a different makeup than a pig being fed out for market due to the different rations they are fed. So, the farmers actually send a sample of manure into a lab and have the manure analyzed.
Here is an example of a manure analysis from Iowa State University:
Est. 1st year availability lbs/1,000 gal

Ammonium Nitrogen (NH

4

-N)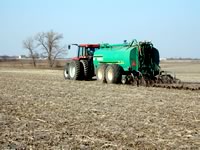 Based on a manure analysis like this, a farmer can determine how many gallons of manure to apply per acre of field to take care of a crop's needs.
Manure can be considered liquid gold because of it's value to crops so a farmer wants to make sure that this manure is applied to fields that need the plant food. This is much easier to do today versus a decade or two ago because of the technology available.
As Joe says my agronomy geekness is coming through so I will end here. However, if you would like more info about manure application check out Iowa State University's website:
www.agronext.iastate.edu
Have a great day and be safe out on the roads. There is a lot of farm equipment traveling up and down the roads and the farm traffic will only increase as we head into the planting season.